SO EASY EVEN A…
WELL, EVEN YOU CAN DO IT!
The Wiper Blade Saver tool transforms your old windshield wiper blade into a like new one with a simple swipe.

These tools have exceptional trimming qualities and work on all major US windshield wiper blades, except for heavy-duty wiper blades.

The Wiper Blade Saver tool will restore a wiper blade one time, saving you roughly $50 per vehicle.
We suggest using the money and time you save to have a nice meal or 10 cups of coffee at your favorite coffee shop.
ORDER NOW
HOW IT WORKS
TURN TIP SIDE UP
Turn wiper blade rubber tip side up
(while either on or off vehicle).
CLEAN BLADE
With soft cloth, clean wiper blade
'edge to remove excess dirt and debris.
INSERT TOOL
Insert tool into the top groove of
the tip of the wiper blade.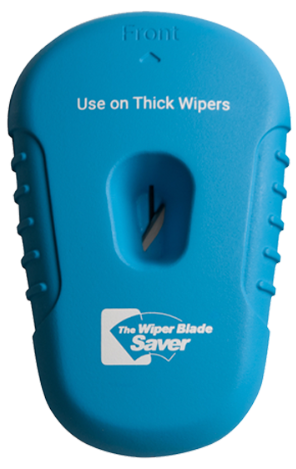 SLOWLY SLIDE TOOL
SLOWLY push the tool up the wiper blade until you feel resistance.
HOLD FIRMLY
SLOWLY push the tool up the wiper blade while keeping the blade as straight as possible.
CLEAN NEW TIP
Wipe blade tip with clean soft cloth.
YOU WOULDN'T LEAVE HOME WITHOUT JUMPER CABLES WOULD YOU?
Don't risk getting in an accident and harming yourself, or even worse, injuring someone else. Use our Wiper Blade Saver Tool to regroove and restore the quality and life of your blades exactly when you need your blades most.
The difference between all the items your carry in your cars safety kit and our wiper blade tool is that they can all be used at any given time, no matter where you are or what situation you are in.
If your cars blades go bad in the middle of a rain storm, you have to risk driving with limited visibility to a car repair shop to purchase new blades. Having this tool on-hand ensures you can restore your blades on the spot.
ORDER NOW